1st ScotSail Training has just invested in a BRAND NEW FamilyFour PowerBoat, purchased specifically for RYA National PowerBoat Courses, Training and Experience Days on Loch Lomond - the biggest inland Loch in Scotland and the U.K.! There is a growing market for training and experience days as on-the-water safety plays a bigger role in watersports today.
Our comfortable Family Cruiser reflects the typical boat-type that most leisure users in this area operate - fast, roomy and perfect for summer days and weekends aways with family or a group of friends. ScotSail promotes on-the-water safety and, with legislation to make compulsory licensing already in the pipeline we make sure that boat-owners are well-prepared.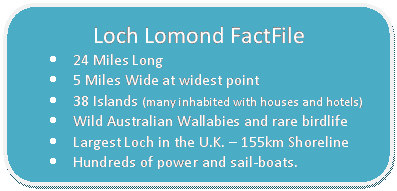 Unlike other Training Organisations that use RIBs or concentrate on Commercial Safety, ScotSail has concentrated on bringing RYA PowerBoat Training Safety Courses to leisure users and first-time boaters - and where better than Scotlands First National Park! ScotSail has long-standing connection with boating on Loch Lomond and not only is it a magical place for family days-out, it is also the perfect training-ground for real people, who have real boats - not just RIBs!